A painter mad about a flower called the tulip
Paula la Peau (1948) was born in Bergen op Zoom, just after her parents returned from the former Dutch East Indies. After having worked at nursery schools, she took up painting and followed several courses on both Dutch and Belgian educational centres like the Vrije Academie in Voorburg (Free Academy) and the Academie voor Schone Kunsten (Art Academy) in Leuven (Belgium). Later she attended classes at workshops of various painters, like Evert Schellens in The Hague and Leiden, Daniel Vandersmissen in Schriel (Belgium) and Maarten Boffé in Antwerp (also in Belgium). She gradually developed into a true disciple of the fine art painting of the 17th century Antwerp school.
Remarkable inhabitants
La Peau considers it a challenge to use themes repeatedly but to do so with a different effect every time. Even if she focuses on certain themes for a longer period, she approaches her subjects and motifs from various angles. Unlike other artists who focus on one theme her work is never predictable. She doesn't repeat herself, and that is clearly a unique aspect of her oeuvre. In the past she has taken up many different themes. Long ago she had an exhibition of portraits in pencil of fifty remarkable inhabitants of a little Flemish village. The youngest of these was a baby, just a few months old, while the oldest was 96. She portrayed them in their daily work outfits, wearing their caps or bonnets, or a coverall. Later in her career La Peau took up themes clearly rooted in her past, such as elephants, and women of the island of Bali (Dutch East Indies). When her paintings of elephants were on display at the Best Western Hotel in Zoetermeer (The Netherlands), the owner of the hotel was so taken with the exhibition that sections of the hotel interior were remodelled to complement the elephant theme and the African ambience … remained. For a long time the hotel was La Peau's most notable showroom. Even today a substantial part of the former show is still on view in Zoetermeer.
"Unlike other artists who work for a long time on one particular theme her work is seldom predictable."
Bali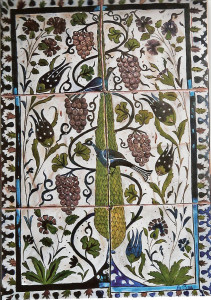 La Peau went to Bali to search for her roots. The journey clearly inspired her with a new theme: Indonesia. Rooted in the two cultures of Indonesia and The Netherlands, la Peau wanted to come to terms with her ethnic duality. The artistic results were presented at the Hotel Mercure in Noordwijk at an exhibition opened by the curator of the Museum De Markiezenhof in Bergen op Zoom, La Peau's native city. Five paintings resembling old Delft blue tiles but decorated with Indonesian motifs aroused great interest. They so clearly showed the heritage of two cultures. A reproduction of these tiles with heads of Wajang Golek puppets was used as the show's invitation. During the opening of the show the curator announced the launching of an exhibition in collaboration with a select group of Indonesian artists, and a symposium on ethnic duality in artistic expression. As a result of this exhibition a comprehensive book entitled 'Between two worlds, awaits the desire of an ocean' was published.  Subsequently, larger events were organized at various venues in and around the city of Delft. La Peau's paintings were displayed at the Nusantara Museum and Museum Het Prinsenhof, both in Delft. Two of her tile paintings depicting the ritual hand positions of a Hindu priest are now part of the permanent collection of the Nusantara Museum.
Indonesian Embassy
Inspired by her visit to Bali La Peau produced a group of paintings which show the magical yet realistic representation of indigenous women, some with bare breasts, others portrayed in a more abstract manner. But the pictures always show the enchantment, but also the mysteries of this 'garland of emerald', as Dutch writers have often described the Indonesian archipelago. A selection of this work was exhibited at the invitation of the Indonesian ambassador in The Hague. The normally  heavily-guarded Indonesian embassy opened its doors wide for four days and the show "was the talk of the town." The public was thrilled, as was the ambassador who acquired several of the paintings.
"They so clearly showed the heritage of two cultures."
Rembrandt tulips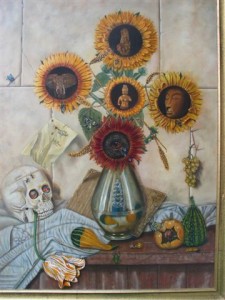 After a long period of inactivity in the creative field, Paula took up painting again in 2006. And once more she was swept away by a subject. This time it was the same flower which  had caused so many to go mad a few centuries before. During the Tulipmania period of the first half of the 17th century bulbs were traded for thousands of Dutch guilders. Some bulbs were as expensive as a house along one of the main canals of an East India Company city such as Hoorn. People were totally fascinated by the unique patterns of flames and feathers that appeared spontaneously on red, rose, purple and maroon petals. And so was La Peau, who became completely enamoured this past spring when she gathered a number of famous historical Rembrandt tulips from the flower beds of the Hortus Bulborum (www.hortus-bulborum.nl) for the first time. This museum garden in the village of Limmen, in the province of North-Holland, is the only treasury in the world of historical spring bulbs. Varieties that are no longer grown commercially anywhere else are safeguarded here for future generations to enjoy and for crossbreeding purposes.
Natures mortes
Sometimes La Peau's attention is captured by classical floral paintings, such as depictions of tulips in vases. Other times she portrays the tulips as individual flowers, almost as botanical representations after the drawings in the famous tulip books of the 17th century. The great masters Basilius Bessler, Maria Sybilla Merian and Jacob Marrell are among her sources of inspiration. And at other times again, she incorporates the tulip in true 'natures mortes' such as the traditional Dutch setting of an old-fashioned kitchen with a wall of conventional Delft blue tiles with small tulip illustrations, of course. Or she shows a bunch of flowers casually arranged in a nostalgic-looking enamel bucket, or in a more symbolic Indonesian setting.  Occasionally, almost in a teasing manner, she depicts all the famous images of tulips, windmills and traditionally dressed peasant women together.
"Or she shows a bunch of flowers casually arranged in a nostalgic-looking enamel bucket."
Tiles
A relatively new genre of La Peau's tulip renditions are tile paintings in various styles, sometimes two, four or more than twenty different ones together, in the form of a tableau. Some of the tiles resemble those that were popular in the 17th century, some are similar to traditional Spanish tiles, and others again were created  in the style of  the fabulous Turkish tulip tiles found on the walls of  the famous mosques of Istanbul, for example the Rustempasha Mosque. La Peau's tiles look so amazingly real that at first many visitors believe that they are looking at true tiles moulded from clay, baked, painted and glazed. But these tiles either are painted on wood panels or on linen. Many visitors needed to convince themselves by touching the paintings to check if the little cracks, scratches and shards that had 'fallen off' were truly three-dimensional.
Exhibitions
Last spring and summer La Peau exhibited a representative selection of her work at Panorama Tulipland in Voorhout (Netherlands). Today a selection of her small monographic work depicting tulips as small individual rectangular flower portraits is on show at gallery Het  Grachthuisje  in Lisse (Netherlands) and soon a small exhibition will be on view at Booksellers Van Hoogstraten (est. in 1881) on the elegant shopping street Noordeinde in the royal quarter of The Hague. Other exhibitions are planned for 2008. All inspired by the flower that has become a true Dutch icon.
(31 oktober 2007 by Leslie Leijenhorst)