To commemorate the 200th birthday of Flora Danica, a special edition of The Ice Dome, the most magnificient piece in the Flora Danica service, Royal Copenhagen is issued, It pays at the same time tribute to the four Queens, who, each in her own way, have made it possible for the service to celebrate this special birthday this year.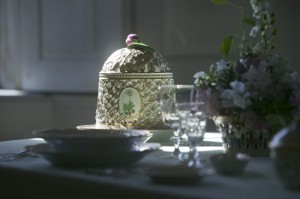 That Flora Danica can now celebrate its 200th birthday in 1990, is due to its unique splendour which appeals to all eras, and to a tradition of craftsmanship which knows no equal. But it is also due to four, female crowned heads: mpress Catherine II of Russia, Queen Alexandra of England, Queen Ingrid of Denmark and Queen Margrethe II of Denmark. Royal Copenhagen is therefore dedicating a special edition of The Ice Dome, the most splendid piece in the Flora Danica service to these four Queens. True to the tradition of Flora Danica, the Ice Dome's four medallions will be decorated with the four Queen's favorite flowers taken from the old 'Flora Danica' botanical work.
Four botanical elements
OAKLEAF – for The Empress Catherine II of Russia, for whom the original service, begun in 1790, was, we believe, intended.
ROSE – for Queen Alexandra of England in whose honour it was recreated in 1863, on occasion of her marriage to the later King Edward VII.
ORCHID – for Queen Ingrid of Denmark, the Queen Mother, in whose care the loveliest flowers thrive, and who made the service itself bloom on Royal Tables.
DAISY – for the present Queen of Denmark, Margrethe II who with her artistic talent and great interest in Danish Decorative Art has kept the tradition alive and who is paying tribute to Flora Danica by putting on a large exhibition in connection with her 50th birthday this year.  This Ice Dome will be produced only during this "Anniversary Year". Inside it is inscribed with this years "Flora Danica 1790-1990" logo. The Ice Dome will be packaged and delivered in a special luxury wooden casing.
PASSION AS A SPONSOR
Catherine the Great reigned from 1762 to 1796 at the Court of St. Petersborg, one of Europe's main cultural centres. She herself was one of history's intellectuals – an extremely cultured personality. Catherine II reformed her country using Reason, The Enlightenment's ideal, as her foundation. To increase her powers she carried out a foreign policy of expansion and fought many wars. In 1790, the reigning Crown-Prince Frederik of Denmark, later King Frederik VI, wished to impress the Russian Empress, a passionate porcelain collector. He commissioned the Royal Porcelain Manufactory to produce a magnificent dinner service decorated with Danish Flora. It was to be a gift which matched her love of porcelain and at the same time underlined both countries' common interests. Some years previously there had been an attempt throughout Europe to research each country's flora and preserve the discovery species on copperplates. This plan was completed in only two countries, Russia and Denmark. The magnificent Flora Danica service crafted for 100 people never reached the great collector. She died in 1796, seven years before the more than 1800 pieces were completed.
Favourite flower of Catherine II:
OAKLEAF (Quercus sessiliflora)
Empress Catherine II has been assigned the oakleaf. From beginning of time the oak has symbolised energy and strength, virtues which are characteristic of Catherine. She adored to be painted with an oakleaf in her hand or under an oak tree. The Oak dominated the Danish forests from 5500 to 400 B C because of the damp and warm climate of that time. The oak needs a lot of light, it does not grow in the shadow of other trees. It hardly casts a shadow itself and because of this the undergrowth is varied. Oak trees live to be very old. In one of the forests on Sjælland (Zealand) Denmarks oldest Oak tree, the Royal Oak can be found. Its diameter is 14 meters and it is 1500 years old.
EUROPE'S MOST BEAUTIFUL QUEEN
This is what the British called Alexandra. At the court of Queen Victoria, it was not only the strict queen who was fond of the Danish princess Alexandra, the people worshipped her as well. Her beauty was legendary, her manners impeccable and intuitive and she liked to improvise. When Alexandra, eldest daughter of Danish King Christian IX and Queen Louise, married the Prince of Wales, later to become King Edward VI in 1863, the event created great happiness in Denmark. The Danes were proud to see their beloved Princess marry into one of the most powerful Royal Households in Europe. A number of Danish women decided to give Alexandra a costly and unique piece of Denmark to take with her to the British throne. For this purpose The Royal Porcelain Manufactory revived Flora Danica and lovingly produced a service for 60 persons. This service can be found at Windsor castle today. Alexandra was married to Prince Edward for 47 years and bore him six children. She stood faithful, loving and understanding by his side when he became King in 1901, after Victoria. Even after her death the British called Alexandra "The beloved Lady".
Favourite flower of Queen Alexandra:
ROSE (Rosa suavifolia 'Light')
The rose was Queen Alexandra's favourite flower and "Alexandra Rose Day" in Great Britain is named after her. The day was founded by Alexandra in 1912 on June 26 to raise money for British hospitals. The emblem is a rose. Money for hospitals is still collected in Britain on "Alexandra Rose Day", sometime during June. The rose has been cultivated for thousands of years. Legends tell of rose cultivation in Persia. In the Greek and Roman mythology the rose was the flower of the Goddess of Love. No flower has been courted by poem or prose as has the rose. The rose produces its richest flower when it grows in sunshine and is most beautiful when treated with care.
A MODEL FOR US ALL
In 1935 when the young Swedish Princess Ingrid arrived at the Danish court to marry Crown-Prince Frederik, later to become King Frederik IX, a great many things changed in Copenhagen. It did not take long for her re-institute old traditions. For example Queen Ingrid brought out the magnificent original Flora Danica service so it once more could adorn the Royal table at special festive occasions. Even as Crown-Princess Ingrid was worshipped by all. She had the gift of being able to talk tactfully to all kinds of people, remember their names and give them a feeling of being understood. Even outside Denmark, Queen Ingrid, who will be 80 on 28th March 1990, has been instrumental in achieving the huge popularity the Danish Monarchy enjoys. For her children, Queen Margrethe II of Denmark, Queen Anne Marie and Princess Benedicte, for her sons-in-law and grandchildren and not least for the Danish people, Queen Ingrid is a true model.
Favourite flower of Queen Ingrid:
ORCHID (Orchis mascula)
Benefiting from the care of an enthusiastic flower cultivator, Queen Ingrid, the most exquisite orchids grow at Fredensborg Castle. But her favourite flower remain the wild orchid, the protected Danish orchid. There are different species of wild orchids. The Orchis mascula grows 20-30 cm high on the Danish islands and in east Jutland in damp earth and near forests. The flowers are carmine red and spiked, supported by thin, coloured petals. The flowers leaves are green or spotted brown.
THE BEST AMBASSADOR
Queen Margrethe II of Denmark combines the spontaneity of her late father King Frederik IX, with the diplomacy of her mother, Queen Ingrid. Her Majesty radiates a natural confidence in any situation. She masters even the most inquiring questions from journalists with intelligent humour, and does so in most languages. Her marriage in 1967 to Count Henri de Laborde de Mompezat, Prince Henrik of Denmark, brought great happiness to the Danish people. Their joy became even greater when Crown-Prince Frederik was born in 1968 and Prince Joachim in 1969. The Queen's interests are manifold. Apart from her numerous duties she is active – and intensively so – in Archaeology, Humanities and Art. The Danish Queen is a very creative painter and designer of decorative art. Her creative interests combined with her respect for Danish tradition have probably moved the Queen to open up the Royal treasure box on the event of her 50th birthday, on 16th April 1990, and exhibit the 200 year old Flora Danica together with her priceless silver at Christiansborg Castle in Copenhagen.
Favourite flower of Queen Margrethe II:
DAISY (Chrysanthemum leucanthemum)
The Daisy (marguerite) is not only Queen Margrethe II's favourite flower, it also describes her perfectly -derived from the Greek margerit (Margrethe) meaning pearl. The name Daisy normally describes various chrysanthemums, all with yellow centres and white, yellow or red petals. Behind the botanical name Chrysanthemum leucanthemum hides the well known wild Daisy. This plant, which can be up to 60 cm in height, grows in fields, banks and forest openings.
PATIENCE AND MANY CLEVER HANDS
As far as we know, no other porcelain factory has ever made an Ice Dome apart from Royal Copenhagen, where it appeared as early as 1783. In the early factory books, descriptions such as 'Ice dish with dome' and 'Dish for ice-cream with dome' can be found. Even then it seems to have been used for the large ice deserts. Its production is one of the most difficult crafts at the factory. Many numerous work cycles and many hands are needed before a Flora Danica Ice Dome is ready. First it is moulded in a plastermould. Then the modeller cuts the pattern, whilst the porcelain mass is still soft. Extreme precision and patience are necessary. Even an expert modeller takes more than a day to cut the basket-weave pattern on the Dome. If the modeller's cut goes just a tiny bit wrong, everything is in vain. Flowers, leaves and stems are formed by hand and put on the Dome. The Dome is fired first at a temperature of 960 degrees C. It is then glazed and fired again at approximately 1430 degrees C. A Flora Danica painter then paints the decorations on freehand from old plates in the botanical work "Flora Danica". The Dome is fired over and over again because not all colours and nuances can be painted at once. The painter signs his work, so it will find its way back to him after each firing. Next the gold-decorator puts on the gold in one area at a time. Again the Dome has to be fired many times. At last the gold is polished with agate, and the Dome is passed through quality control for the last time.
(March 2000, door Leslie Leijenhorst)